Ayurvedic Treatment for Hair Growth
Various Ayurvedic Treatment for Hair Growth
---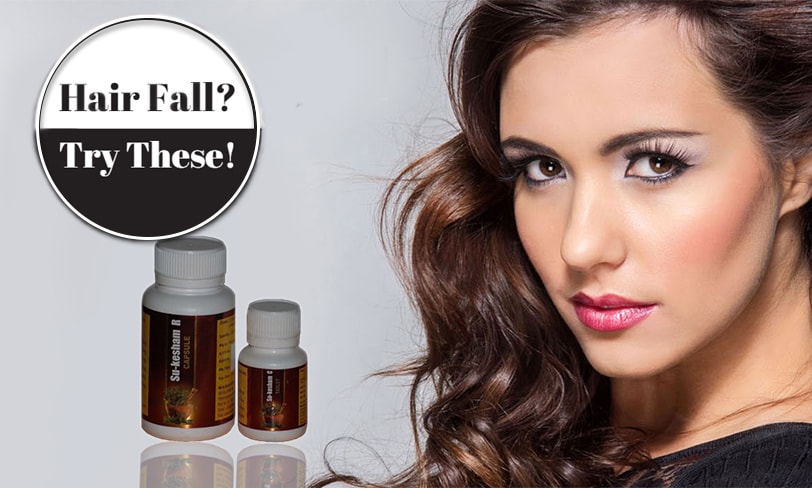 Our hair is made up of a protein called keratin that is present in our hair follicles in the outer layer of our skin. Basically, the hair we see on our scalp is actually a string of dead keratin cells. Losing around 100 strands a day out of 100,000 or 150,000 is not necessarily a cause of alarm. However, if the condition worsens and your hair continues to thin, it may be a matter of grave concern.
Today hair loss has become a very common condition and affects most people at some point or the other in their lives. There are various types of hair loss called Alopecia and the best way to treat them is by ayurvedic treatment for hair growth.
Different Types of Hair Loss
Androgenic Alopecia
Androgenic alopecia is a genetic condition that might be present in both women and men. This condition in women is called female pattern baldness, and it doesn't occur until their 40's. They experience the most extensive hair loss at the crown and a general thinning over the entire scalp. Whereas men who suffer from this same condition experience it as early as their teens or 20's. It is also called male pattern baldness and is characterized by the gradual disappearance of hair from the frontal scalp and crown and a receding hairline. There are a number of ayurvedic medicines for hair regrowth in the market.
Scarring Alopecia
This condition results in permanent hair loss. Various conditions like hot combs, hair pulled too tightly or woven, other inflammatory skin conditions like acne, cellulitis, folliculitis and skin disorders often result in permanent loss and scars that destroy the chances of hair regrowth.


Involutional Alopecia
Involutional Alopecia is a pretty natural condition where the hair gradually thins with age.
Areata Alopecia
Areata Alopecia causes sudden patchy hair loss in kids and young adults. At times it may result in complete baldness but generally, it has been observed that the hair returns in a few years. You can always use Ayurvedic medicines for hair regrowth to fasten the process.
Causes of Hair Loss
There are several reasons that influence hair loss, they are:
Genes: Genes from both the parents may affect a person's state to female and male pattern baldness
Diet: A severe calorie restricted diet or a low protein diet can temporarily affect hair loss. Ayurveda believes that there is a connection between the health of your hair and your digestive health. Therefore Ayurvedic treatment for hair growth takes in account your digestive health.
Disease: Autoimmune diseases at times cause areata alopecia.
Hormones: Abnormal level of hormones such as androgen can result in hair loss.
Drugs: Drugs too can cause temporary hair loss in people. They include blood thinners, birth control pills, chemotherapy drugs used in cancer treatment and beta-adrenergic blockers used to control blood pressure.
Medical Conditions: Medical conditions like diabetes, iron deficiency, anaemia, lupus, iron deficiency anaemia and eating disorders too can cause hair loss to a great extent. The hair might or might not return when the underlying condition is treated. If lupus; follicle disorder, lichen planus etc is formed then the hair in that area might not return.
Cosmetics: Cosmetic procedures contribute to making the hair brittle, thin and weak; such as bleaching, shampooing too often, dyeing hair and perms. Also, strengthing, curling, using hot curlers, tight braiding etc can break and damage our hair. They might not cause baldness but at times can do severe damage to the scalp.
Best Remedies for Hair Fall
Most people prefer to take ayurvedic medicines for hair loss for a healthier scalp and hair. This is because the causes and diagnosis of hair loss are often too difficult to detect. Mostly, doctors address hair loss through allopathic medications to treat the cause.
If the condition of hair loss is hereditary or the cause is not known, then the medications might just be futile. Whereas Ayurvedic medicines for hair loss nourishes your scalp, promotes hair growth and balances your hormones in the body. The est remedy for hair fall is ayurvedic herbs as they improve the appearance of your mane, strengthen hair follicle and prevent hair fall.
Ashwagandha Indian
winter cherry or Ashwagandha is the most commonly used ayurvedic medicine for hair loss and the best remedy for dandruff. When applied to the scalp it curbs hair loss, helps scalp circulation, boosts antioxidant activity, stimulates the production of melamine and controls cortisol level. It's advisable to use it thrice a week. You can also orally consume ashwagandha powder.
Bhringraj
Bhringraj, also known as the king of herbs helps in preventing premature greying and reversing balding. It is available in oil and powdered form both. You can use tulsi and amla to form an ayurvedic combination.
Neem
Neem is one of the best medicines for hair fall. It promotes healthy hair growth, strengthens roots and improves blood circulation in the scalp. Mostly neem is used to treat scaliness, dryness, psoriasis, excessive sebum and lice.
Amla
This ayurvedic medicine for hair loss improves scalp health by tackling scalp aggravation and dandruff. It also acts as a natural dye when used with Shikakai.
Also, the problem of hair fall is associated with your lifestyle habits too. Therefore it's important to take simple steps to take care of it such as drink aloe vera juice for hair regrowth, reconsider your diet, Herbal oil massage, drinks lots of water, consume food rich in minerals and vitamins etc.